Disana Toddler Felt Shoes - Pre-order 2022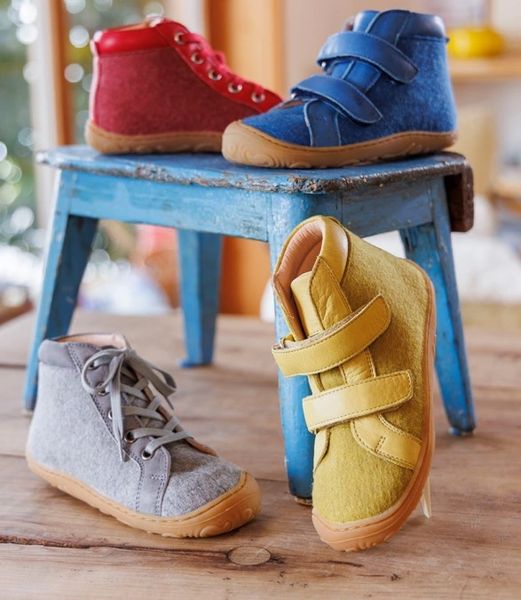 Disana Toddler Felt Shoes - Pre-order 2022
Disana Toddler Felt Shoes
~ This Listing is for placing your pre-order for a Fall 2022 delivery ~
You're paying $30 at order placement, and the remaining amount before delivery.
Disana proudly presents their newest product: organic wool-felt toddler shoes! In collaboration with German shoe manufacturer Werner 1911, these shoes are made through sustainable production of pure natural materials. Fine organic natural leather complements Disana's recycled organic wool felt beautifully through excellent craftmanship and design.
The natural rubber sole provides great protection and grip to the ground, yet is flexible to make rolling the foot easily. The sole is pulled up in the front for additional protection of the foot and material. The inner sole is covered by natural leather. A coconut fiber lining provides great wearing comfort.
Upper material: 100% organic wool felt. The 2mm thick felt is breathable and ensures a firm grip and always warm feet.
Lining and appliqués: 100% chromium-free, vegetable-tanned leather. The skins come from controlled organic farms. The entire manufacturing process meets the requirements for the quality sign "IVN natural leather".
Inner sole: coconut fiber
Outer sole: 100% natural rubber 
Made at Werner's workshops in Romania and Slovakia!
Sizes 6-10 (German: 23-28) - $110
Sizing
Please see pictures for size chart.

The most reliable way to find your little one's shoe size is by measuring a well-fitting and similar pair you already have.  The other way to measure a foot is with these easy steps:
1. Step on a piece of paper, in socks
2. Draw around the foot, holding pencil as perpendicular as possible
3. Measure between the two farthest points apart (big toe to heel)
4. Find the correlating size on the size conversion chart attached in images
Why wool?

Wool keeps your child warm, because its naturally crinkled fibers hold the body heat. This way, wool balances temperature in cooler surroundings.
Pure Merino wool can absorb up to a third of its own weight in moisture without feeling damp. Thanks to its lanolin content, the fiber also offers protection from external wetness, with pearls of water forming on its surface.
Finely crimped wool does not itch and feels soft and comfortable on sensitive skin.
Care of Wool
 These shoes are easily cleaned by letting them dry and then brusing them with a soft brush.