Hocosa Children - 100% Silk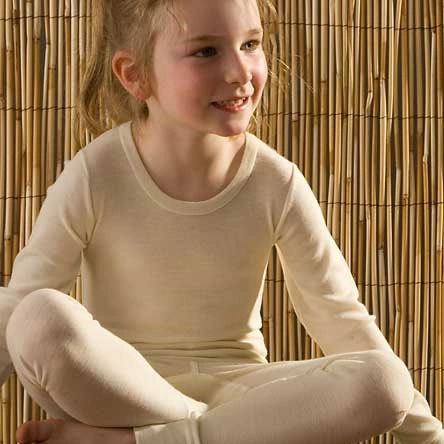 Hocosa Children - 100% Silk
Spoil your child's skin with Hocosa base layers of 100% silk.
Silk is hypoallergenic and made for sensitive skin.  Silk is durable, smooth and very comfortable to wear.  Like animal hair fibers, silk does not conduct heat.  It is therefore also a good insulator, keeping you warm in winter and cool in summer.
Tussah silk is produced by Tussah silkworms and has a beautiful natural golden color.
Gently handwashing your silk clothing is recommended. If necessary, apply a very mild detergent, such as wool shampoo. Rinse the item in cold water, until all soap residue has been removed.  Drying in the sun, on a heater, or in the dryer is taboo. Roll any silk item in a dry terry towel twice to take out moisture, then let it dry at a well aerated and shaded place.  Do not twist or wring, as this could damage the fibers.  

Dry cleaning and using bleach is not recommended.
European sizes are a child's height in centimeters (1 inch = 2.54 cm).  Size by age is approximate, and as all children are unique. So, please choose the size that corresponds to your child's total height for best fit: 
92 = 36" ~ 1-2 years
104 = 41" ~ 2-4 years
116 = 45.5" ~ 4-6 years
128 = 50.5" ~ 6-8 years
140 = 55" ~ 8-10 years
152 = 60" ~ 10-12 years
164 = 64.5"~ 12-14 years