Hocosa Mama Wool/Silk - black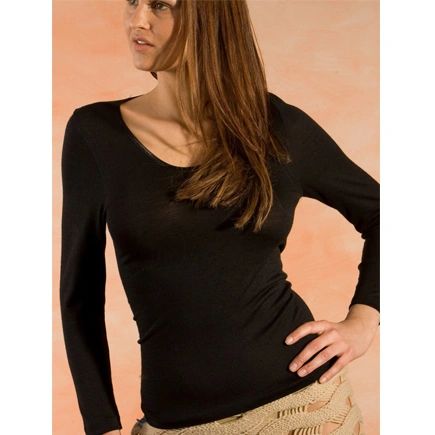 Hocosa Mama Wool/Silk - black
Spoil your skin with precious underwear made in organic quality.
These organic long pants are made from 70% organic merino wool and 30% silk.  The finest quality available, and the perfect combination of many benefits of wool and the extraordinary characteristics of precious silk. Fine merino wool is absorbent and cozily warm.  Silk is durable, smooth and comfortable to wear.  Because natural fibers breathe, together they create a temperature balance and support the natural capacity of the skin.
Wool possesses the natural ability to clean itself by simply being aired.  Wool absorbs moisture, and its natural lanolin cleanses away bacteria & odors. Although the HOCOSA wool/silk products are machine-washable, handwashing them only occasionally with DISANA wool shampoo is recommended. This will maintain the wool's self-cleaning properties.
Drying in the sun, on a heater, or in the dryer is taboo. Roll any wool item in a dry terry towel twice to take out moisture, then let it dry at a well aerated and shaded place.
Please note that there are item choices for: long-sleeved shirt, long pants, and camisole.
European size conversion:
36 ~ S (US 10)
38 ~ M (US 12)
40 ~ L (US 14)
42 ~ XL (US 16)
44 ~ 2X (US 18)
46 ~ 3X (US 20)