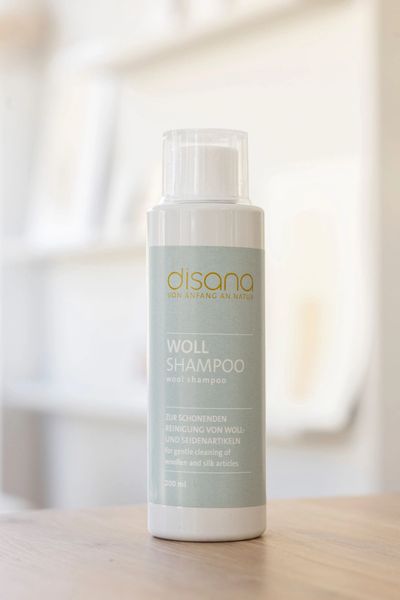 Disana Wool Shampoo
Disana Wool Shampoo

Disana's wool shampoo is specifically formulated for washing natural wool. It gently cleans delicate wool fibers while preventing felting during the wash. Panama bark extract is naturally foaming and has excellent cleansing properties, even in cold water required for hand-washing wool. This wool shampoo is a concentrate and will therefore last for many washes of wool and silk garments. Gentle on your skin and the environment. Free of perfumes.
Ingredients:
panama bark extract,
Cocamidopropyl Betaine (surfactant) - derived from raw coconut oil,
sodium lauroyl glutamate (surfactant) - derived from renewable plant resources,
citric acid,
aqua.
Directions:
For machine washes: 15 mL per wash (1/2 cap). Only wash woolens in the machine on a delicate/hand wash setting (cold). Do NOT spin, and remove right after washing.
For hand washes: 5 mL per 4 L of water. Only use lukewarm water. Do NOT rub or scrape at woolens, just wash briefly. Do NOT let woolens sit in water and rinse with lukewarm water. 
The wool shampoo pH is adapted to that of natural wool, which makes it especially suitable for the gentle washing of high-quality wool and silk, e.g. merino wool, angora, cashmere, and medical fleeces.
Made in Germany!

Wool shampoo, 200ml (6.75oz) - $12
Wool shampoo, 30ml (1.0oz) - $2.50
Here is a great video and info on how to wash wool garments: https://www.youtube.com/watch?v=JrdZY-Cxppg&ab_channel=Gentleman%27sGazette
We hand-wash our wool garments as described here, which works really well.  We have NOT tried machine-washing rolled wool garments, so we can't vouch if that works.