Disana Outdoor Jacket - Previous Seasons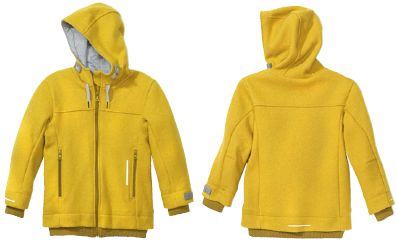 Disana Outdoor Jacket - Previous Seasons
Disana Organic Boiled Wool Outdoor Jacket                             
Enjoy our discount on discontinued colors!
Now available from 2 years to 14 years! In addition this style is also comes in a longer version as the Outdoor Coat.

This all-weathers jacket, made of cozily warm organic merino wool and organic cotton lining on body and hood, has a new design. Better than ever!

The newly formed fit of body and sleeves makes the jacket even more pleasant to wear. Your child is now able to stretch out their arms without the hem sliding up. This is prevented by the so called "high reach" cut, mainly used for climbing sports attire. This technique makes sure that belly and back stay warm.
Areas that are particularly under strains were optimized. For example, the forearm seam was moved. The wristbands were strengthened  with an
additionally integrated thread. Definitely a jacket with a long lifetime!
To prevent treasures from being lost, the pockets are equipped with zippers now. Reflectors bring more safety in the dark. The hood's fit has been improved as well. A new drawstring system makes it even safer.
Our outdoor-jacket combines the full potential of the current "natural textiles-technique" with timeless design and the wonderful characteristics of pure organic wool.
Made in Germany!

98/104 (3-4 years) - $180

110/116 (5-6 years) - $180
122/128 (7-8 years) - $205
134/140 (9-10 years) - $205
146/152 (11-12 years) - $215
158/164 (13-14 years) - $215
Please see pictures for size chart.

Why wool?
Wool keeps your child warm, because its naturally crinkled fibers hold the body heat. This way, wool balances temperature in cooler surroundings.
Pure Merino wool can absorb up to a third of its own weight in moisture without feeling damp. Thanks to its lanolin content, the fiber also offers protection from external wetness, with pearls of water forming on its surface.
Finely crimped wool does not itch and feels soft and comfortable on sensitive skin.
Care of Wool

1. Gently hand wash wool items using very cold water. Be gentle, as the agitation can cause wool to shrink.
2. Apply a very mild detergent such as DISANA wool shampoo.
3. Rinse the item in cold water until all soap residue has been removed.
4. Press the water out of the fabric by rolling it in a towel. Do not twist or wring, as this will shrink the fabric.
5. Hang the wet garment and allow it to air dry completely. Do NOT hang wool garments in the sun to dry.
6. Iron only when absolutely necessary. Use a cool iron with a press cloth between the iron and the fabric.
Additional Tips

- Dry cleaning is not recommended, as it could shrink your wool garment.
- Since wool is a natural fiber, do not use bleach as it will damage the fibers.